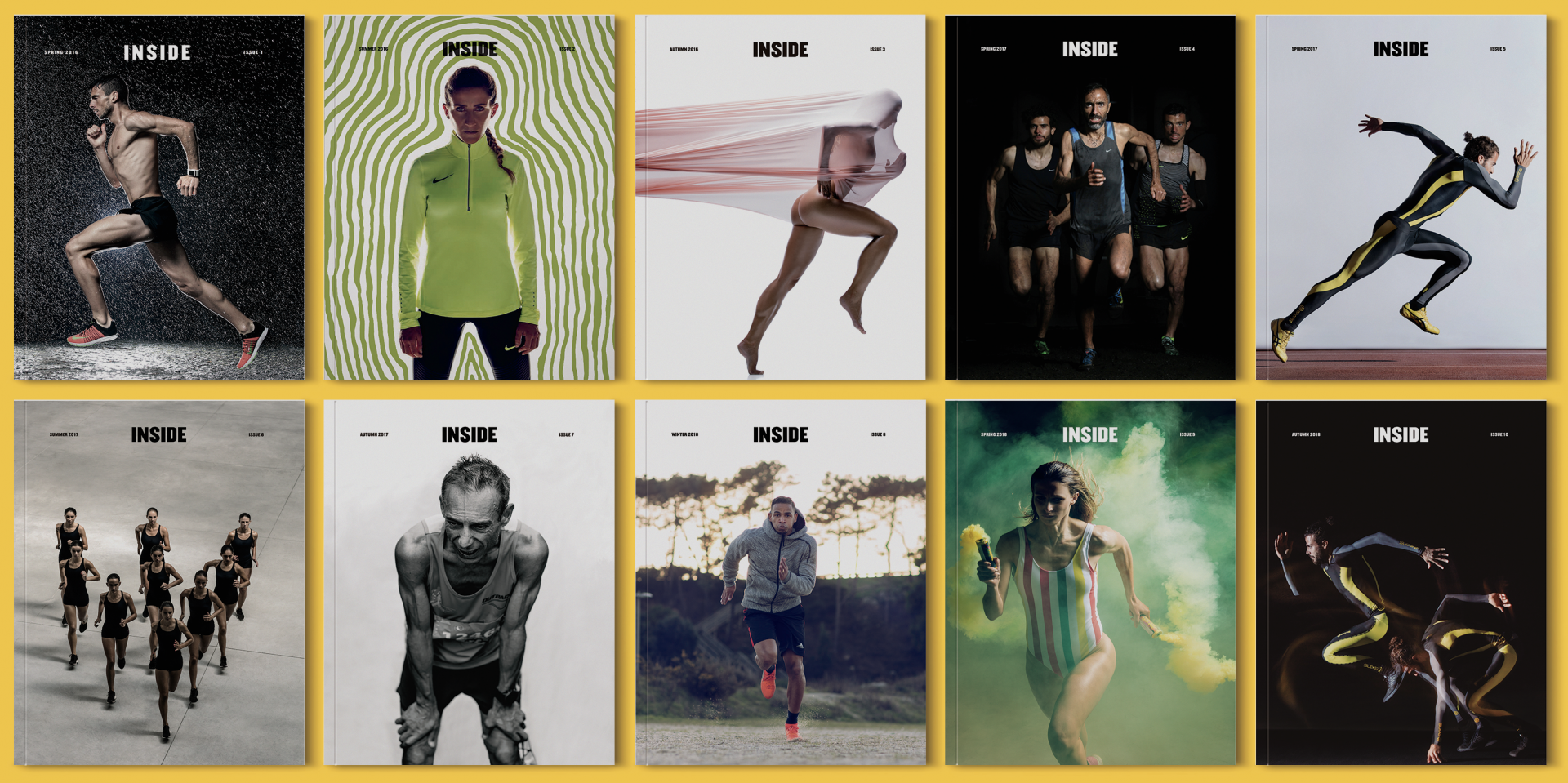 It was in the spring of 2016 that the first issue of our magazine "INSIDE Running as a lifestyle" came out, born within a broader project focused on running: Run4excellence. This project was set up with 3 main goals: 1. To support athletes who are strongly engaged and committed to their training and sports career, so they can achieve their full potential; 2. To enable young coaches to develop their careers in a project capable of providing them with the environment for proper professional development, and 3. To invest in research and training applied to the physical training process, especially in what concerns running. It is precisely here in this third point that led to the birth of our magazine "INSIDE Running as a lifestyle" arises. A project already with 12 published issues, in which not even the tremendous challenges associated with financing something with its characteristics could hinder its continuity. The highly positive feedback we have been receiving continues to encourage a team of young coaches who are doing their utmost to ensure the project is not jeopardized, and the messages keep coming from all over the world. Henrik Larsen, from the Muscle Research Center of the Copenhagen University, mentioned us in a message:
"I'm really impressed with the nice layout, beautiful pictures and the very fine paper on which the articles are printed.
Many of the pictures almost belong in a magazine for art.
I am very pleased that I have been able to contribute to such an ambitious project. I never imagined anyone could figure out how to make this kind of magazine."
It is messages like this, the feedback we get from all around the world, that make us believe that it makes sense to keep this project alive, no matter how complicated its financial backing may be.
Meanwhile, over the last 12 years, we counted on the participation of several coaches and researchers, such as Grégoire Millet, Andrew Jones, Renato Canova, Jack Daniels, Peter Thompson, Henrik Larsen, Run Maughan, Neeru Jayanthi, George Gandy, Iñigo Mujika, Olivier Girard and Paul Larsen! We are proud to count on contributors of this caliber, in a series of interviews that focus, in a very precise way, on topics that all of them have studied or developed with athletes. These interviews, of great value to all those interested in improving their technical skills, help us understand how these personalities perceive crucial aspects of training, together with other auxiliary means to the athletes' sporting performance.
To present technical content, conveyed in a straightforward fashion, accessible to all, has always been one of our main goals in this project. Therefore, we always bring you an article with some training exercises we use most often, either for injury prevention or muscle strengthening and also the reason we end each edition with a very specific training-related theme, developed with practical examples.
But we wanted to go even further and dignify the world of running in different contexts, and that's why, in each edition, we develop the publication's design and photography with the utmost accuracy and care. Our goal is to heighten the world of running by providing a layout and images of the highest quality. The inclusion of an art chapter, in which guest artists do their best to express their visions of running, complements all the care that guides us in the making of each issue.
To respect the world of running is also respecting our history and all those who have become our sporting references over the years. Consequently, since our first issue, we have published excellent works featuring different athletes who have achieved European, World, or Olympic podiums. Their life stories, their ways of looking at the training process and even examples of some of their most remarkable training sessions.
This is also a bilingual magazine, with all the articles written in Portuguese and English. Besides, we believe that the care taken with its design, paper and print quality make it an example among the world's independent publications devoted to running.
---